History
JML Rotary Scout is a 39 Tosca cruising yacht, owned by the South African Scout Association. The yacht was donated by the Rotary Club of Bellville as a bare hull to the Sea Scout Base at Sandvlei, Lakeside in 1987 and fitted out over a number of years, finally being launched in 1994.
JML Rotary Scout is managed by a group of dedicated volunteers, mainly Scout Moms and Dads. Nobody is paid. The yacht falls under the control of Sea Scout Base Parent's Advisory.
The Tosca 36
For some reason this is my personal favourite of the 3 – and one of my favourite boats ever. Sometimes you just know it when you see it. . . where have you seen a nicer centre cockpit on a boat this size? or any size?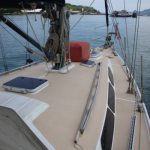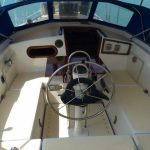 We used to have a great Tosca 36 in Hout Bay called Jandy. Her two successive owners were extremely happy with her, and the second one was able to attest to her seaworthiness through an amazing adventure I don't have space for here unfortunately. I should have bought this boat myself . . . not sure where she is now.
Quoting from Angelo's email to me on the Tosca "Seeing the sucess of the L36, Fred Scholtz asked me to design the Tosca 36, (design 0103) as a production boat, to be cheaper to put together than the L36. Center cockpit rather than aft cockpit. She has a higher volume than the L36, with her beamier, firm bilged, full sterned hull, less ballest, smaller rig, less displacement. Less of an "all rounder" in performance than the L36. More wetted surface and slower in light airs, but faster reaching in a breeze. The original boats were simple & light. Two circumnavigated. Unfortunately as time went on the boats got more elaborate, aft cabin walkthrough, bigger engine, more tankage, bigger rig, stern platform etc."
When first sighting a Tosca, the main features appear to be the full beam, large and protected centre cockpit, simple Bermudan masthead rig. Typically the decks are clean and uncluttered. Typically they move a lot faster than you would expect of a boat this beamy. The decks are open and give great space to move on. She really is an inviting platform, with nice curves and overall appearance. I have seen some very nice dodgers and doghouses built for them too, but the level of finishing varies enormously as many were owner-fitted, rather horribly in some cases. . . .
Inside, the space is unbelievably voluminous, despite the centre cockpit. The for'ard section of the hull is large enough so you fortget there is another cabin aft. She has loads of packing space, and the size gives a great feeling of security. Layout is conventional – except the saloon is so wide you have space for an extra pilot bunk above the settees if you wish.
The aft cabin is a very nice feature – not an afterthought tacked on in place of the lazarette. It is comfortable and spacious as a cabin, though owners use them for all manner of things – storage, workshops, granny flats etc. Per the original design they are accessible only via the cockpit – but many have been modified for internal access too – not practical in my opinion though. The one I knew had this feature – the owner called it "lumbago alley"…
By far the most amazing feature of the Tosca is the generous centre cockpit. It is deep and secure. The shape is exactly right – the mouldings fit your back. It is high and dry above the water. It justifies a good dodger (or doghouse) beautifully, and makes life very very pleasant for the duty watch or the drinking parties equally… its enough to justify the whole boat. Jandy – in Hout Bay – was always the boat people congregated on for drinks or tea when the wind blew. I really wish there were more boats with this feature.
The Saloon was also great – not unusually great, but quite adequate – which means there is always a "nice place to be" on the boat – although the V-berth was a bit small on the example I know – but hey – the aft cabin was great…
Dynamically – Toscas sail well. They held some good passage times on the Governors cup – Cape Town to St Helena – a nice long downwind reach – and are clearly able to survive fierce weather. I did see one being laid over in a sudden squall under full rig in Hout Bay's "Thunder Alley" one day – spreaders in the water – she popped right back up without changing direction and kept going…
Being light and beamy, and roundish, they are good trade-wind cruisers, and very comfortable. I reckon they'll manage upwind quite well except in gale-force conditions. Reaching would be the preferred point of sail, and they actually do quite well round the cans in moderate conditions.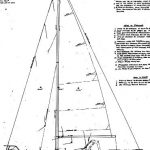 The rig is delightfully simple – a single spreader affair, with masthead Genoa and manageable Main. Cheap and easy – and great for cruising. Often one could use the Genoa alone. Roy McBride – of CKD Boats – has fitted several of these and reckons they represent one of the best value cruising options anywhere. I agree.
Sea-going yacht, worth more than R100 000 donated to scouts!